Streaming: "The way educational Vol.2"
Direct playback from any media device (PC, tablet, or smartphone),
No download necessary,
You click and then you watch directly from your customer space,
No timeouts - unlimited Play.
.
.
DESCRIPTION
70 education that are contained in this 2nd volume of 32 minutes, induce a wide range of technical gestures through physical adjustments simple and appropriate, such as elastic bands, pieces of belt, and even pencils.
The program, divided into 4 chapters covering 4 themes : Blocks, kicks, helps learning 1 kata + a bonus introducing a formulation teaching that explains in-depth the 3rd volume.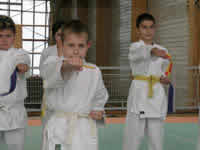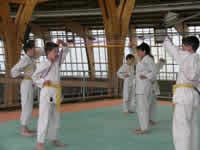 .
EXTRACTS
.
The final Induction technique and pedagogy for problem solving, 2 simple methods to integrate into its courses, addressing also particularly good for children and helps to introduce the one hand, the techniques in karate, but also the behaviour of opposition associated with it : Acceptance of confrontation, speed management, distance, and accuracy.
.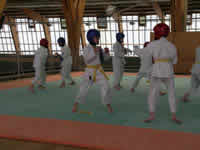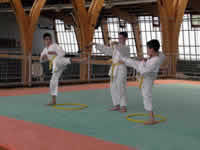 .
Duration : 32 minutes
Language : French

International : The mastery of French is not essential because of the many demonstrations sufficiently explicit.
DVD all zones

.

Produced exclusively by and on Infokaraté, this series UNIQUE teaching, sold several thousand copies is trusted by all candidates for a teaching credential type DAF, DIF, CQP, DEJEPS of the French Federation of Karate. Cited in reference in the schools executives of the French federation of Karate (training center for teachers of karate), the series "The way teaching" also became a BEST SELLER in Spain, Portugal, Italy, Belgium, the netherlands, Switzerland, Canada, Brazil, etc...
.
AUTHOR
Professor of sport and physical education and graduate status in Karate, Alain Foltzer is responsible for school managers in the league Limousin from 2004 to 2008, former member of the national commission on child of the French Federation of Karate (FF-Karate) and webmaster of the website Infokarate.com devoted since 2001 to the training of teachers of Karate (80 000 visitors per month). Alain Foltzer is also a teacher trainer of physical Education and sports in combat sports.
Director of the 5 DVD "The way teaching" and this series of instructional videos offered on Infokaraté are educational resources, particularly innovative and useful for any teacher in charge of one or several groups of children and candidates AFA, DAF, DIF, CQP and DEJEPS of the French Federation of Karate.
.
TECHNICAL INFORMATION AND PRACTICES