In the summary : 40 educational courses organized in teaching progression that shows how it is possible to teach children and older beginners, gestures and micro-technical know-how that will serve as a springboard for learning basic techniques in Kihon.
This conception of teaching is UNPUBLISHED and relies on the use CLEVER innovative material: foam sticks with a length of 40 cm.
La voie pédagogique Vol.5 is a rhythmic video, with sustained comments and which is part of the pedagogical logic of all the videos in the same series (sold several thousand copies).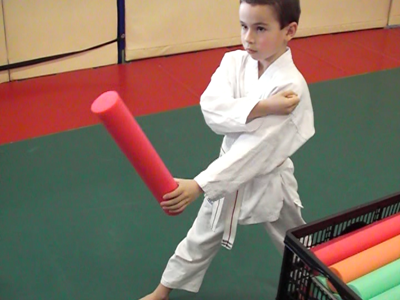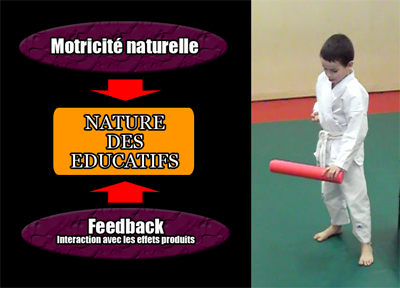 PEDAGOGICAL INNOVATION :

Whether we are talking about fist closure, Kento orientation, hikity, movement preparation, balance, forearm rotation (prono-supination of the forearms) and others, these conditions to be respected for the technique to be effective have the particularity of not being limited to a single technique.

Thanks to a non-exhaustive repertoire of 10 action rules, it is possible to define micro-technical objectives, that is to say real gestural experiments made of strands of technique and know-how essential to the realization of basic techniques. This micro-technical phase is the first link in a progression that must lead to the first Kihon for beginners.

On the pedagogical level, we have also created educational programs that bring together 2 essential and highly reactive conditions in children :
Be as close as possible to their usual or natural motor skills.
Create maximum interaction between the actions produced and their effects. Thus giving meaning to the actions and making it possible to establish the link so difficult to highlight in a playful approach between the gesture performed and the technique.
The pedagogical path Vol.5 is aimed at active Karate and martial arts teachers as well as future teachers preparing for a diploma.
A rich video on the theoretical and pedagogical level, it is also a tool for all beginner practitioners wishing to start Karate in the best conditions thanks to the some 40 educational videos to be made for yourself in addition to the course.
Like all the videos in the series "The Pedagogical Way", volume 5 represents a wealth of practical and theoretical information for all teachers in charge of groups of children or beginners as well as for all candidates for a teaching diploma.
.
.

Language: French


Running time: 33 minutes

Direct reading from any medium (PC, tablet or smartphone),


No download needed,


You click and then view directly from your customer area,


No timeouts - Unlimited playback.
.


Professor of physical education and sports and state graduate in Karate, Alain Foltzer is responsible for the executive school of the Limousin League from 2004 to 2008, former member of the national children's commission of the French Karate Federation (FF-Karate) and webmaster of the site Infokarate.com dedicated since 2001 to the training of Karate teachers (80,000 visitors per month). Alain Foltzer is also a trainer of Physical education and sports teachers in combat sports.
Director of the 5 DVDs "The pedagogical way" and of this educational series, all the videos offered on Infokaraté are particularly innovative and useful educational resources for any teacher in charge of one or more groups of children as well as for AFA, DAF, DIF, CQP and DEJEPS candidates of the French Karate Federation.
.
.
.