Streaming: "The way educational Vol.1"
Direct playback from any media device (PC, tablet, or smartphone),
No download necessary,
You click and then you watch directly from your customer space,
No timeouts - unlimited Play.
.
.
DESCRIPTION
This video of a duration of 30 minutes, introduced into 4 chapters, the fundamentals of an approach didactisée of teaching karate to children in the sense that it details a definition of educational technology, on which each year will take its source. Thus becoming a support tool, it allows the teacher to start the game, and come to learning situations concrete and adapted to the children, even very young, in going through the warm-up specific putting in scene of the objectives of the type : "listen selectively", "tracking"...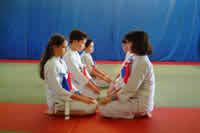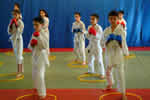 .
Program : 44 educational commented and structured, aimed at the acquisition of the principles of action of traditional drumming techniques with fists (Tsuki, Uchi Uraken, Oi Komi) in a cooperative environment and duel, aiming at the same time the education associated behaviors : Acceptance of confrontation, speed Management, distance, and accuracy, without forgetting "respect of performance criteria gesture".
.
EXTRACTS
Duration : 30 minutes
Language : French

International : The mastery of French is not essential because of the many demonstrations sufficiently explicit.
.

Produced exclusively by and on Infokaraté, this series UNIQUE teaching, sold several thousand copies is trusted by all candidates for a teaching credential type DAF, DIF, CQP, DEJEPS of the French Federation of Karate. Cited in reference in the schools executives of the French federation of Karate (training center for teachers of karate), the series "The way teaching" also became a BEST SELLER in Spain, Portugal, Italy, Belgium, the netherlands, Switzerland, Canada, Brazil, etc...
.
AUTHOR
Professor of sport and physical education and graduate status in Karate, Alain Foltzer is responsible for school managers in the league Limousin from 2004 to 2008, former member of the national commission on child of the French Federation of Karate (FF-Karate) and webmaster of the website Infokarate.com devoted since 2001 to the training of teachers of Karate (80 000 visitors per month). Alain Foltzer is also a teacher trainer of physical Education and sports in combat sports.
Director of the 5 DVD "The way teaching" and this series of instructional videos offered on Infokaraté are educational resources, particularly innovative and useful for any teacher in charge of one or several groups of children and candidates AFA, DAF, DIF, CQP and DEJEPS of the French Federation of Karate.
.
TECHNICAL INFORMATION AND PRACTICES

.