.
.
Contents : 40 educational organized in a progression of teaching that shows how it is possible to teach children from beginners to older, gestures and know-how micro-techniques that will serve as a springboard for learning the basic techniques in Kihon.
This conception of teaching is NOVEL and relies on the use of the SMART materials innovative : sticks in the foam to a length of 40 cm.
.
The way teaching Vol.5 is a video rhythmically, the comments supported and which is consistent with the teaching of all the videos of the same series (sold several thousand copies).
.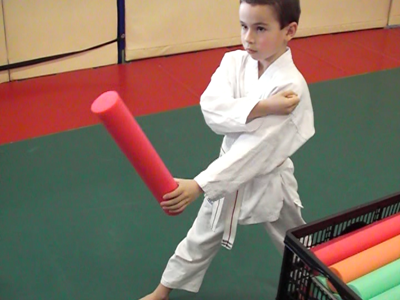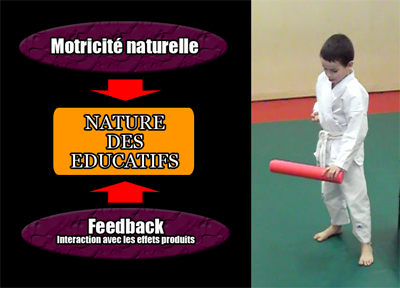 .
INNOVATION PEDAGOGIQUE :

We were talking about closing the fist, counseling, Kento, of hikité, preparation of movement, balance, rotation of the forearm (proximal and distal supination of the forearm) and others, these conditions to be met for the technique to be effective, have the characteristic of not being limited to a single technique.

Thanks to a directory, non-exhaustive list of 10 rules of action it is possible to set goals that are referred to micro-techniques, that is to say real experiences gesture made of strands of technique and know-how essential to the achievement of the basic techniques. This phase microphone technique is the first link in a progression that should lead to the first Kihon among beginners.

On the teaching front, in addition we have created educational meeting 2 conditions essential and highly reactive children :
.
To be closer of their motor skills or common natural.
Create a maximum of interaction between the produced actions and their effects. Giving meaning to actions and establish the link so difficult to highlight in a fun approach between the gesture performed and the technique.
.
The way teaching Vol.5 is intended for teachers of Karate and martial arts activity as future teachers preparing a diploma.
Rich video on the theoretical and educational, it is also a tool for all practitioners beginners wanting to start Karate in the best conditions thanks to the 40-some education to realize for itself, in complement of the course.
.
.
Like all the videos from the series "The way teaching", volume 5 is a wealth of information both practical and theory for all teachers in charge of groups of children or beginners as well as for all candidates for a teaching credential.
.
.
.
.
.
.

Language : French


Duration : 33 minutes

Direct playback from any media device (PC, tablet, or smartphone),


No download necessary,


You click and then you watch directly from your customer space,


No timeouts - unlimited Play.
.


Professor of sport and physical education and graduate status in Karate, Alain Foltzer is responsible for school managers in the league Limousin from 2004 to 2008, former member of the national commission on child of the French Federation of Karate (FF-Karate) and webmaster of the website Infokarate.com devoted since 2001 to the training of teachers of Karate (80 000 visitors per month). Alain Foltzer is also a teacher trainer of physical Education and sports in combat sports.
Director of the 5 DVD "The way teaching" and this series of instructional videos offered on Infokaraté are educational resources, particularly innovative and useful for any teacher in charge of one or several groups of children and candidates AFA, DAF, DIF, CQP and DEJEPS of the French Federation of Karate.
.
.
.