VIDEO DOWNLOAD free - instant Download (296 Mb)
------------------------------------------------------------
A resource for teaching.
This educational resource for karate and martial arts to children, teenagers and beginners is to download (296 Mb).
It contains a video of 296 Mb + 1 educational booklet accompanying PDF version.
Its mission: to train you or give you the inspiration to power your progress.
Discover new educational situations performance in new and which will help children and beginners to learn their first KATA.
This new kit designed and sold ONLY by Infokaraté, is the result of an experiment with children aged 5 to 12 years. It is composed of :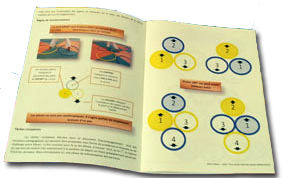 +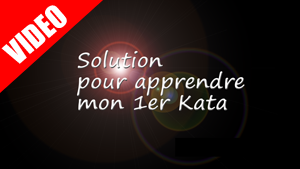 A booklet accompanying detailing the description of 27 route to assemble together with hoops and where children will learn to move and to rotate.
1 video to download : True concentrate of pedagogy, particularly rhythm, which goes directly to the point : 37 teaching situations condensed into 17 minutes.
This video showcases all of the workshops schematized in the accompanying booklet to assist teachers to implement and to understand the functioning and logic.
In a 2nd part, this video offers a set of variations of the path pivots, thus opening perspectives, educational scopes. The variations of course become very numerous. This will give the teacher material to teach for many sessions.
Finally in a 3rd party, an educational approach that will allow children or beginners to learn more quickly in their 1st Kata type Taikioku, Kata which opens the door to learning basic Kata, thanks to a tip mnemonic to be very effective.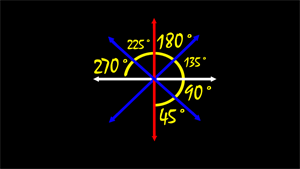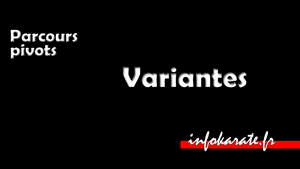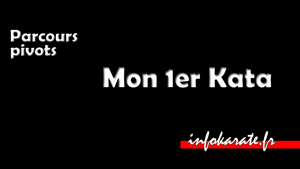 100% ACADEMIC : All pathways have been created to ensure that children always use the same color of the hoop to a foot and the other colour of the hoop to the other foot. And thus a system of reference to be particularly effective and clever to help them understand the exercises and remember their actions.
An exclusive creation infokaraté
DETAILS
The pivots are of the complex travel arrangements that organize the management structure of KATA. When one is a beginner, they are just as difficult to realize that any technique of percussion or blockage.
But when learning KATA begins, students will then link this set of technical actions that are not yet acquired a network of travel is changing directions, rotations of the body more or less important and different shapes (pivot on the front foot and pivot on the rear foot).
On a technical level, the pivots are $ 4 action rules :
The direction (the axis defined by the bearings)
The sense (The orientation of these supports)
The angle of rotation (90° / 180° / 270° ...)
The form (Mawari Ashi or Ushiro Mawari Ashi, etc.).
This is why, in order to best help the beginners, the pivots must be the subject of an education in its own right-even before you tackle the learning of KATA (in The same way as the techniques of percussion and blocking elements).
Excerpt from the video

French Language
Duration 17 minutes
37 educational situations
This series of teachers is an exclusive creation infokaraté.
Language : French
International : The demonstrations are sufficiently explicit and do not require an understanding of French.

Duration : 17 minutes
Download immediate - 296 Mb (video in mp4 format, compatible with any player)
Test for FREE, a video sample to check the compatibility of your drive : Click here

* If your computer does not read correctly the TEST video (mp4 Format), choose a universal video player such as "VLC" (recommended)" > more information...
AUTHOR
Professor of sport and physical education and graduate status in Karate, Alain Foltzer is responsible for school managers in the league Limousin from 2004 to 2008, former member of the national commission on child of the French Federation of Karate (FF-Karate) and webmaster of the website Infokarate.com devoted since 2001 to the training of teachers of Karate (80 000 visitors per month). Alain Foltzer is also a teacher trainer of physical Education and sports in combat sports.
Director of the 5 DVD "The way teaching" and this series of instructional videos offered on Infokaraté are educational resources, particularly innovative and useful for any teacher in charge of one or several groups of children and candidates AFA, DAF, DIF, CQP and DEJEPS of the French Federation of Karate.
TECHNICAL INFORMATION AND PRACTICES

How to download your videos?
An email containing the link to your video to download you is automatically shipped once payment is confirmed (immediately, in the event of payment by bank card).
Note : it is important that the email you entered when creating your customer account, to be valid. Also make sure that this email did not end up in the folder "junk" of your e-mail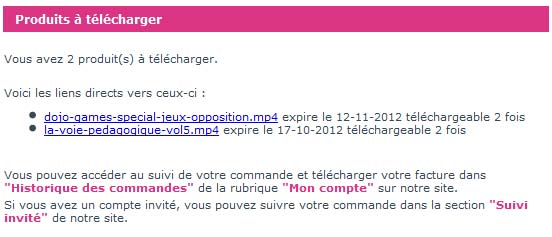 Your videos are then downloaded directly on your computer without being compressed. In other words, they are ready to be read once downloaded.
Outside of the download, you have no other manipulation to perform : You download and then you watch your videos on your computer.
Need help : contact@infokarate.com or 06 29 07 19 69