VIDEO DOWNLOAD - immediate Download - 576 Mb

.
.
"The fundamental techniques and tactics for beginners". Here's a teaching strategy is innovative and unique in the environment of Karate. This 3rd volume of a duration of 43 minutes, tackles through 3 chapters, a pedagogical design of the teaching of karate to be particularly effective.
.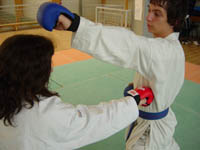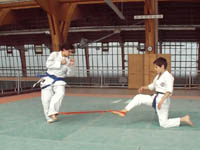 .
Why an innovative approach and unique?
- Because we are doing the opposition a learning tool and technique normally reserved for the Kyhon, by integrating them in duels secure what we have identified as being of "Fundamental techniques"
- Because we confront immediately the beginners to the management of tactical schemes simple and practical, usually reserved for a more advanced level : Such as the direct attacks to the rhythm and the mowing.
In total, 'the way teaching volume 3" combines some 50 teaching situations all organized in progressions, and this time addressing it to students aged for a minimum of 8/9 years of age up to teenagers, and more.
.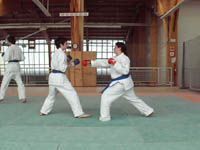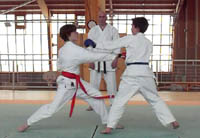 .
This video opened up many avenues of work that you won't have trouble with explorer, even with students of more advanced level and older.
.
.
.
.

Duration
: 50 minutes

Language
: French

International
: The mastery of French is not essential because of the many demonstrations sufficiently explicit.

Download immediate
- 576 Mb (video-format .mpg, compatible with any player)
.
Test for FREE
, a video sample to check the compatibility of your drive :
Click here
.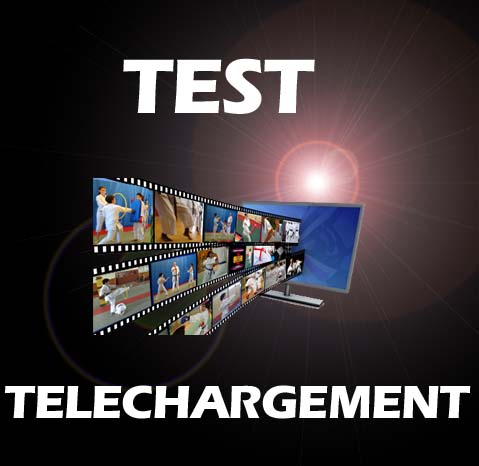 * If your computer does not read correctly the TEST video (mp4 Format), choose a universal video player such as "VLC" (recommended)" > more information...
.
.
.

Produced exclusively by and on Infokaraté, this series UNIQUE teaching, sold several thousand copies is plébicitée by all candidates for a teaching credential type DAF, DIF, CQP, DEJEPS of the French Federation of Karate. Cited in reference in the schools executives of the French federation of Karate (training center for teachers of karate), the series "The way teaching" also became a BEST SELLER in Spain, Portugal, Italy, Belgium, the netherlands, Switzerland, Canada, Brazil, etc...
.
.
WHAT THEY THINK
"See you soon for other volumes that I found really informative. I use it often as a media for my classes... thank you for what you do for karate and especially an aspect of karate is education, because, in fact, getting a high grade is easy with time and work, but convey what was to teach this is to go in a universe parallel to that of the traditional practice. Then I wish you, in the interest of all practitioners and future teachers to continue as long as possible in this way..." - José FERREIRA

"This is really great everything that you do. A big CONGRATULATIONS and thank you, too, it is so useful, all that." - Anne GOUDENOVE http://www.karate-saint-lys.com

"It has very much liked us ! What animate our children's classes. Everyone finds his account : the professor and the students. The children love, it changes the exercises become a bit too conventional for the "old". The professor finds a new source of inspiration. The DVD's are really very good. Bravo. "- BSE Karate

"Excellent work and excellent suport for teachers. We want more !!!" - Mr. BOURENE, BEES2, Juror BEES1

"First of all congratulations, this is a very good work. So much so, that I was fascinated by this DVD that I even found it a bit short. At the end I said "already". To finish, I can not say one thing BRAVO!" - Thomas HAREL
.
..


Professor of sport and physical education and graduate status in Karate, Alain Foltzer is responsible for school managers in the league Limousin from 2004 to 2008, former member of the national commission on child of the French Federation of Karate (FF-Karate) and webmaster of the website Infokarate.com devoted since 2001 to the training of teachers of Karate (80 000 visitors per month). Alain Foltzer is also a teacher trainer of physical Education and sports in combat sports.
Director of the 5 DVD "The way teaching" and this series of instructional videos offered on Infokaraté are educational resources, particularly innovative and useful for any teacher in charge of one or several groups of children and candidates AFA, DAF, DIF, CQP and DEJEPS of the French Federation of Karate.
.

Payments accepted : credit Cards (CB, Mastercard, Visa,...), PAYPAL account, check (Only for metropolitan France), bank transfer national and international.
Download after confirmation of payment (immediate in the case of payment by credit card or Paypal account).
The client can inform the name of a club at the time of the creation of its customer account (This allows to establish the invoice in the name of the club).
Invoice available and printable from the account client.
Video only available to download (ADSL Connection or + required)
.
.

An email containing the link to your video to download you is automatically shipped once payment is confirmed (immediately, in the event of payment by bank card).
Note : it is important that the email you entered when creating your customer account, to be valid. Also make sure that this email did not end up in the folder "junk" of your e-mail
.

.
Your videos are then downloaded directly on your computer without being compressed. In other words, they are ready to be read once downloaded.
Outside of the download, you have no other manipulation to perform : You download and then you watch your videos on your computer.
.
Need help : contact@infokarate.com or 06 29 07 19 69.