VIDEO DOWNLOAD
"special Games opposition - instant Download (118 Mb)
This special video games "opposition" for karate and martial arts children is to download (118 Mb)
A duration of 20 minutes, she tackles over 11 games opposition progressively complex and totally UNRELEASED :
Find out how each educational situation is not limited to a single activity without educational challenge :
Find out how and with little equipment, balls and sticks foam, each game is opposition and confrontation secure, takes an educational dimension where agility, reflexes and alertness necessary for the practice of martial arts, are fundamental.
On the teaching front, discover a number of way of managing heterogeneous groups within a same game.
How to allow the students the less skilled, to win against the best.
Learn how to design game rules that allow losers stay in the game instead of being eliminated.
An instructional design advanced, this video will help you to complete your courses, your workouts or your training sessions animation for groups of children aged 5 to 12 years old (The group of demonstration is composed of children aged 5 years to 9 years).
.
.
Check out a new range of games of opposition, ranging from simple games to games with complex, in which even children as young as 6 years of age, arrive to express themselves and win in the face of the older children, more tonic and more agile than them.
The series "Dojo games" special games opposition is an exclusive creation infokaraté.
Language : French
International : The demonstrations are sufficiently explicit and do not require an understanding of French.

Duration : 20 minutes
Download immediate - 118 Mb (video to mpg format, compatible with any player)
Test for FREE, a video sample to check the compatibility of your drive : Click here

* If your computer does not read correctly the TEST video (mp4 Format), choose a universal video player such as "VLC" (recommended)" > more information...
AUTHOR
Professor of sport and physical education and graduate status in Karate, Alain Foltzer is responsible for school managers in the league Limousin from 2004 to 2008, former member of the national commission on child of the French Federation of Karate (FF-Karate) and webmaster of the website Infokarate.com devoted since 2001 to the training of teachers of Karate (60 000 visitors per month). Alain Foltzer is also a teacher trainer of physical Education and sports in combat sports.
Director of the 5 DVD "The way teaching" and this new series of educational "Dojo Games", all the videos offered on Infokaraté are educational resources, particularly innovative and useful for any teacher in charge of one or several groups of children and candidates AFA, DAF, DIF, CQP and DEJEPS of the French Federation of Karate.
"This is why we love your videos Mr Foltzer. There are the exercises already original and full of good sense, and there are in addition to all the tricks of pedagogy that go with it. So much useful stuff." Olivia Estaelo (Italy)
"Very well. See" - Philippe Dulou - KC Vayres (France)
"I found your video very interesting and it is useful to me to diversify my course" - Laurence Chemello
TECHNICAL INFORMATION AND PRACTICES

How to download your videos?
An email containing the link to your video to download you is automatically shipped once payment is confirmed (immediately, in the event of payment by bank card).
Note : it is important that the email you entered when creating your customer account, to be valid. Also make sure that this email did not end up in the folder "junk" of your e-mail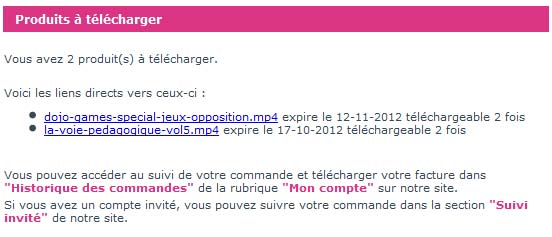 Your videos are then downloaded directly on your computer without being compressed. In other words, they are ready to be read once downloaded.
Outside of the download, you have no other manipulation to perform : You download and then you watch your videos on your computer.
Need help : contact@infokarate.com or 06 29 07 19 69