VIDEO DOWNLOAD - immediate Download - 533 Mb


.
.
In summary : 83 games and educational for karate children, adolescents and adults : Games, balance and reflexes - My first steps in Mae Géri, Ushiro Géri and Yoko Géri - early learning techniques (positions, flows, simple, guides,...) - Progression of teaching the techniques of blocking - stability - Introduction to the working of the hips in the beginners...
.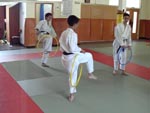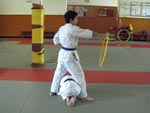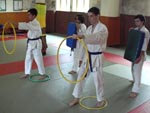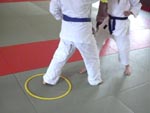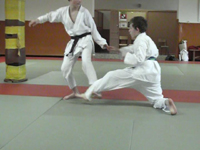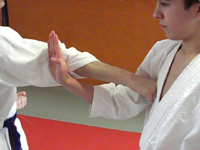 .

Course traction for Karate kids : Discover a path to put in "game" balance while inducing the acquisition of fundamental actions relative to Mae Géri, Ushiro Géri and Yoko Géri.
.

My first steps in Mae Géri : for the original video "The way educational Vol 1, this series of educational organized in progress discusses a simple step to put in place with the hardware low-cost : plastic bottles. But do not be fooled, it is not only to hit a bottle sitting on a bench, this is only the surface of the issue. The logic of this sequence is more subtle and trainer for the students.
.

Balance games around : Mae Géri - Ushiro Géri - Yoko Géri
Coordination, gestures and balance management in a hardware environment consisting of hoops and DTP. Here is what one could conceive as educational situations clever because they have some essential characteristics : attractive and varied. Everything you need to satisfy at karate for kids, teens and even adult beginners.
.

The first learning techniques : The pedagogical efficacy of this progression is particularly interesting. Regardless of the profile of students (children, adolescents, adults), these exercises have demonstrated the rapid acquisition on the technical level : Dissociation arms/legs - road engine of the members, thus allowing to maintain a high level of motivation within the learning purely technical for beginners. The most interesting is certainly related to the fact that such learning (Tsuki blocks and basic) and are experienced through a relationship DUO (Work with partner) to acquire additional skills in terms of managing the distance.

Stability : Associated with a theoretical introduction, this series of educational addresses the original design of the teaching of the stability for education for beginners and even children.
.

Work of the hips - a Few useful exercises to introduce an effective work of the hips with pivots (among other things !)
.

Build Mae Géri and Yoko Géri -check out how the orientation of the surface that hits the microphone becomes a tool that organizes the action of the kick. Example of simple rules and is very reactive in beginners.
.

Games warm-up and induction : Relay of equilibrium with hoops, work Shuko Tsuki 2 or in a group, etc - check out as a warm-up of the new games that are attractive to young children.
.

To the mowing : Extensively addressed in the video "the way educational Vol.3", here are a few exercises introducing from a basic position, the basic principles for a successful mowing safely.
.

Building blocks for children and beginners (of any age) through the establishment of a relationship attack/defense simple.
Addressing learning technique without saturating the student is a key issue in all education, especially when it comes to learning technique. The proposal pedagogical extensively developed in this part, will bring the teacher an extra vision of the teaching of the blockages of the base in the children and beginners extensively developed also in the video "The way educational Vol.2"
* To blocks basic : Jodan Age Uke, Yoko Uke, Soto Uke and Gédan Baraï
.
.
.
.

Duration
: 43 minutes

Language
: French

International
: The mastery of French is not essential because of the many demonstrations sufficiently explicit

Download immediate
- 533 Mb (video in mp4 format, compatible with any player)
.
.
.
Test for FREE
, a video sample to check the compatibility of your drive :
Click here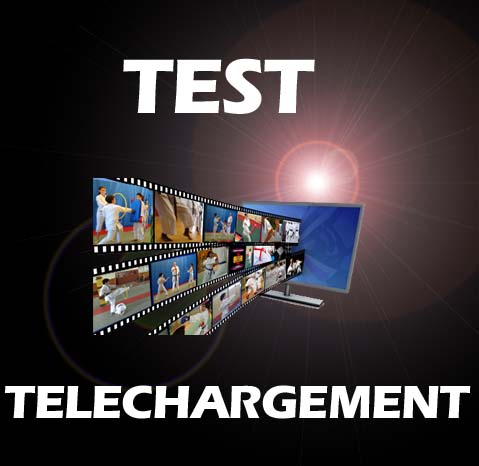 * If your computer does not read correctly the TEST video (mp4 Format), choose a universal video player such as "VLC" (recommended)" > more information...
.
.
WHAT THEY THINK
"Mr. Foltzer, I want to tell you that the videos that I bought yesterday to meet with my expectations.
In fact, I am in the process of negotiating to open a section of karate in my village (the most difficult is to find a room, but I'm hopeful!) and despite my many years of practice, I needed a "framework" to adapt my knowledge to the education of children, adolescents and adult beginners.
Your pedagogical approach is excellent and it is clear that I shall be inspired by your work and your advice in my future courses. I will download the other videos progressively, this first step being very conclusive. Thank you and good luck! "- Pascal L. Virmoux - Clair, New Brunswick - Canada)
"I thank you, I just watched the DVD and I find it superb, I am an instructor and I have a fulani wrong, we will even say a lot of hard to find exercises innovative as you do. This will allow me to use and I hope to improve" Jean-Marc R.
"this is great - THANK YOU" Nadia L.
.
.

Produced exclusively by and on Infokaraté, this series UNIQUE teaching, sold several thousand copies is trusted by all candidates for a teaching credential type DAF, DIF, CQP, DEJEPS of the French Federation of Karate. Cited in reference in the schools executives of the French federation of Karate (training center for teachers of karate), the series "The way teaching" also became a BEST SELLER in Spain, Portugal, Italy, Belgium, the netherlands, Switzerland, Canada, Brazil, etc...
.
.


Professor of sport and physical education and graduate status in Karate, Alain Foltzer is responsible for school managers in the league Limousin from 2004 to 2008, former member of the national commission on child of the French Federation of Karate (FF-Karate) and webmaster of the website Infokarate.com devoted since 2001 to the training of teachers of Karate (80 000 visitors per month). Alain Foltzer is also a teacher trainer of physical Education and sports in combat sports.
Director of the 5 DVD "The way teaching" and this series of instructional videos offered on Infokaraté are educational resources, particularly innovative and useful for any teacher in charge of one or several groups of children and candidates AFA, DAF, DIF, CQP and DEJEPS of the French Federation of Karate.
.

Payments accepted : credit Cards (CB, Mastercard, Visa,...), PAYPAL account, check (Only for metropolitan France), bank transfer national and international.
Download after confirmation of payment (immediate in the case of payment by credit card or Paypal account).
The client can inform the name of a club at the time of the creation of its customer account (This allows to establish the invoice in the name of the club).
Invoice available and printable from the account client.
Video only available to download (ADSL Connection or + required)
.
.

An email containing the link to your video to download you is automatically shipped once payment is confirmed (immediately, in the event of payment by bank card).
Note : it is important that the email you entered when creating your customer account, to be valid. Also make sure that this email did not end up in the folder "junk" of your e-mail
.

.
Your videos are then downloaded directly on your computer without being compressed. In other words, they are ready to be read once downloaded.
Outside of the download, you have no other manipulation to perform : You download and then you watch your videos on your computer.
.
Need help : contact@infokarate.com or 06 29 07 19 69.
.