.
.
The PACK "STUDENTS" is an educational kit consisting in its basic version of 30 items which have the particularity to offer a responsiveness pedagogical and maximum BUDGET:
12 Chips foam + 12 scarves pinned + 6 elastics of 3 metres.
.
Adapt the amount of elements to the number of students: The "Add to cart" above. (For 24 students, double the pack of 12 students, etc...)
.
.
.
.

 12 scarves pinned (3 lots of 4) available in 4 colors.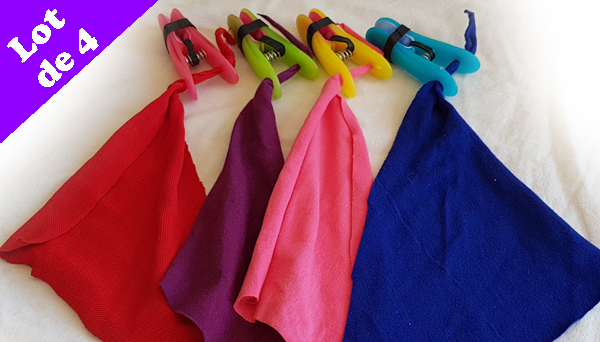 Features : The scarves pinned are scarves of 20 cm2, attached to pins secured that we can hang on any part of the kimono to serve as a target to catch. The educational issues of this tool are widely demonstrated and argued in the first 3 volumes of the DVD "The way teaching" on sale on this shop.
Assortment in 4 colors increases, moreover, the gaming potential of this tool almost indispensable in the field of teaching karate kids or beginners.
.
.
.

 12 sticks in foam - coated, smooth, a length of 39 cm, and 8 cm diameter - assorted Colors.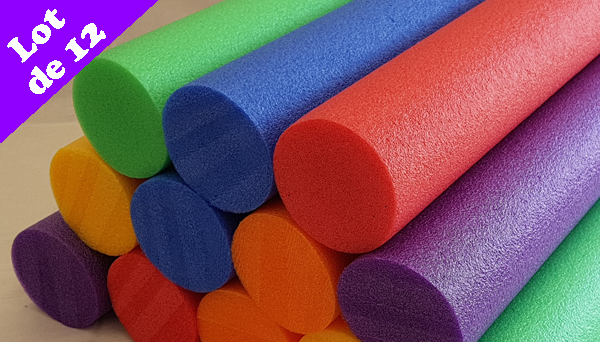 .
Known to induce early forms of blocking, the chips of foam are excellent video games to opposition that does not require truly protective equipment type helmet or gloves (Even if some precautions are still obvious > Avoid pointing face for example : What a helmet not full will not allow more to protect)
The length of the chips is not a coincidence (38 cm). Too long, they are difficult to guide. The children will, for example, find it hard to maintain a hand. The choice of this length is related to an experience related to their use with groups of children than adults. Games opposition and situations of learning blockages among other things, become extremely dynamic with this length.
In addition, the matter that makes up the chips that we propose has been long-sought and tested because of its resistance to fragmentation (Criteria number of French fries sold also do not match).
.
.
.

6 elastic Loops to a length of 3 meters - Colour contrasting with the white kimono (Karate gi).
.
Dedicated to early learning techniques, the learning objectives that can address this small equipment are extensively described in Vol.2 of the DVD "The way teaching" on sale on this site.
Features : Elastic of 0.5 cm wide and 3 metres long, used to form a loop to pass under the arms or on the hips between 2 partners (+ all of the variants demonstrated in the Flight.2 "The teaching path" on sale on this site.
.
.