.
Immerse your students in an environment of challenge throughout the sporting year and reward the ALL during a ceremony of the end of the season.
"The challenge of the samurai" is a concept designed to strongly engage and retain your students for a whole year and beyond.
Three dominant are put forward and will enable any student to claim the ultimate trophy: The cup of the samurai


Attendance

Listening

Progress
Each of these 3 themes is assessed each month for each student on their tracking sheet (rigid > plastic). The "scale" is specified. And each course becomes a challenge or the level will not be sufficient, but where a work assiduous, attentive listening to the instructions and the willingness to progress, whatever his level and his grade will make the difference.
.
.
.
.
The similarity of this device is widely used by other federations, and has long since proved its worth. Do not rest more than you.
.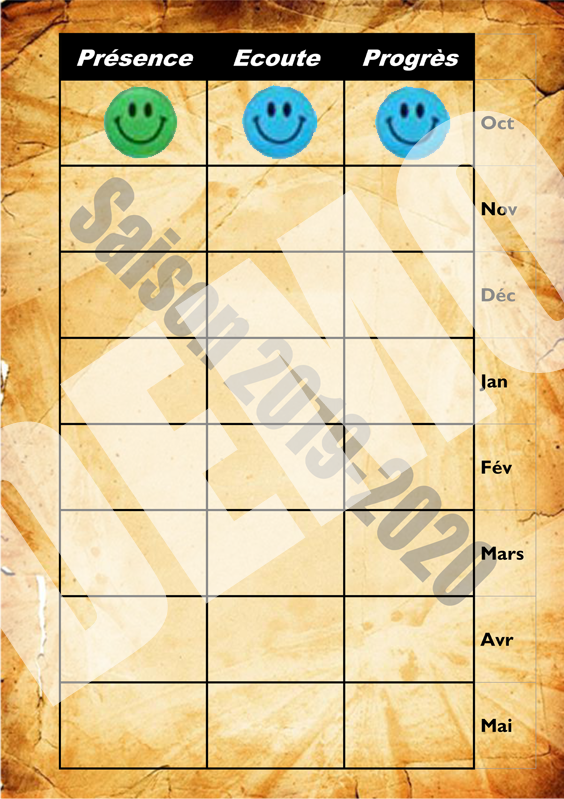 .
The trophy of the samurai is not restricted to only one cup. Other lots we will ALL be rewarded:
This lot contains:

1 Cup of type MONEY of 23 cm high, struck by a medallion of GOLD type.

10 medals GOLD type of 40mm diameter with ribbon tricolors.

10 Bracelets silicone size child/youth printed by the statement: "I do Karate".

10 booklets of annual follow-up + Smiley self sticking to ask each month on the reverse side of the sheets, annual monitoring (see model above).

5 degrees of Excellence.

5 diplomas of Honour.
.
Principle of operation-side professor: Make it so that only 1 student did that smiley BLUE. It will win the cup + 1 medal + 1 diploma of excellence + 1 bracelet silicone. For others, there are enough medals, diplomas, and bracelets to achieve a classification favorable to all. You have to play....
.
In the "Add to cart" above, adjust the batch based on the number of students.
.
Suggestion: Pair it up with this batch of certifications of degrees and/or diplomas rewarding additional and different.
.
.
.