How to upload videos?
When you order your downloadable videos, they are downloaded to your computer without being compressed. In other words, they are ready to be read once downloaded.
Apart from downloading, you have no other manipulation to perform: You download and then watch your videos on your computer.
2 ways to access the download of your videos once the payment has been validated

---
1- An email containing the link (s) to your videos to be downloaded is automatically sent to you once the payment has been validated (immediate as part of a payment by credit card).
Note :It is important that the email entered when creating your customer account is valid. Also make sure that this Email does not end up in the "unwanted" folder of your mail.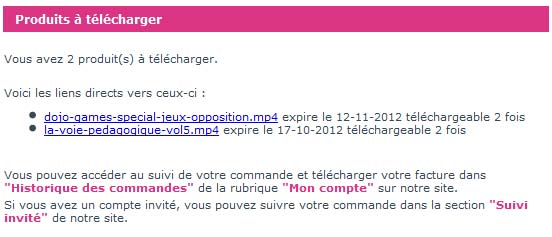 2- Or, connect-voUs to your customer account then go to the "My Downloads" section in the "My Account" menu.
The download links to your videos appear on the central page. These links are clickable twice during a period of 30 days.
Need help: contact@infokarate.com or 06 29 07 19 69