How to download your videos?
When you order your videos in downloadable version, they are downloaded to your computer without any compression. In other words, they are ready to be read once downloaded.
Besides downloading, you have no other manipulation to achieve: You download and viewing videos on your computer.
2 ways to access the download of your video once payment is confirmed

---
1- An email containing the links to your videos you upload is automatically dispatched once payment is confirmed (as part of immediate payment by credit card).
Note :it is important that the Email informed when creating your customer account, to be valid. Also make sure that this email does not end up in the folder of "unwanted" in your email.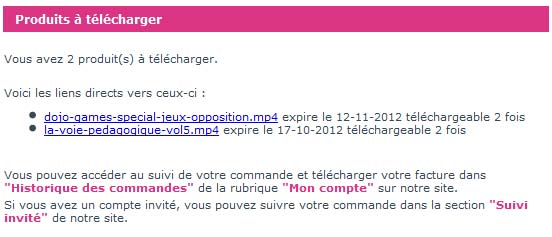 2- Or connect to your account and then go to the "My Downloads" in the "My Account" menu.
Download links pointing to your videos appear in the centerfold. These links are clickable 2 times during a period of 30 days.
Beson help: contact@infokarate.com or 0629071969
No product
Expedition 0,00 €
Total 0,00 €
Search the blog